Sustainability & LEED

As a member of the US Green Building Council we support sustainable construction techniques and use of sustainable materials to conserve non-renewable resources, contribute to better air and water quality, support the local economy and save money. We are committed to strategies that will both meet and exceed sustainable design goals for all projects. We encourage the implementation of systems, materials, practices and standards for green and sustainable design in all phases of the facility delivery, planning, design and construction.
Wildish Goes Solar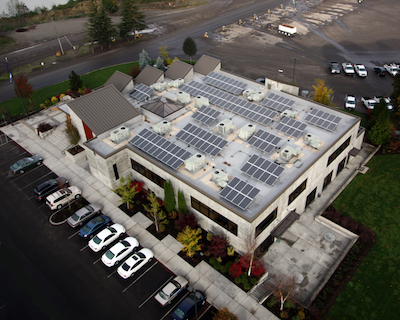 In 2010 Wildish installed a solar panel system on the roof of the Wildish Corporate Headquarters located in Eugene, Oregon. The system includes 147 photovoltaic panels which produce enough electricity to power about four average homes for a year. Wildish also installed energy saving light bulbs along with timers and motion sensor lighting throughout the building to help conserve energy. By reducing energy consumption at our own work place we hope to influence others to do the same. We bring this same mentality of energy conservation to all of our projects.
Build It Green
Our plant operations in Eugene routinely recycle asphalt, concrete, aggregate and water sources for many of our projects. We consider it our duty and responsibility to do our part to protect the environment.
Project Implementation
Controlling stormwater runoff is a key goal in getting our projects started in the right direction. We also routinely develop waste management plans to divert maximum amount of waste from local landfills. LEED strategies are used for project preconstruction services and construction practices.
Education
Employees at every level are encouraged to pursue LEED Accreditation. Wildish reimburses employees for costs associated with LEED Accreditation and continuing education. Currently all of our key managers in Wildish Building Co. are LEED Accredited.
Office Practices
We practice the recycling of glass, aluminum, paper, and cardboard in every office and on every project where services are available. We strive to purchase only recycled content products. Lighting and thermostats are turned off or down when rooms are not in use. We use digital technologies that allow us to use the least amount of paper.